Welcome...
Welcome, Adisadel Alumni (Santaclausians) and friends, to the Adisadel Old Boys Association web site. More than 20,000 Santaclausians around the world take advantage of a lifetime membership in the Association. Membership entitles you to information about your benefits; invitations to select events such as reunions, grand openings, as well as invaluable networking opportunities with other Santaclausians. We also invite you to visit the school's official website at: www.AdisadelCollege.Net

Adisadel celebrated its 100 years of existence in 2010.
On behalf of the entire Santaclausian community, best wishes to you for your continued success!
---
AdisadelOnline News (click on news title to read more)
---
---
Past Student Search


Have you ever wondered who was in the same class with Lieutenant General Akwasi Amankwaa Afrifa, head of state of Ghana and leader of the military government in 1969? Maybe you would like to know when Dr. Ave Kludze graduated as a form 5 student at Adisadel....or someone told you he attended Adisadel and you would like to check-out his classmates...well...as part of Adisadel's 100 years of educational excellence we have put in place the Adisadel Past Student Search. This is an online search tool that allows you to search on past students of Adisadel with information on the year students entered Form 1 or SSS1 and when they graduated at the GCE O-Level or SSS3/4. You have to check out this cool search tool...
http://www.adisadelonline.com/ss.php
.
Some 'homo' pictures can also be seen at: http://www.adisadelonline.com/year_groups.htm. If you are in possessions of your class Homo picture, you could send a scanned copy to webmaster@AdisadelOnline.com.

---
Report on the Centenary Float in Accra on Sat Feb 27th.
By John Adjei (Pajero), Ebiradze - Santa '86
The appointed time was 7am. As usual we were all running on "GMT". People started appearing at Kaneshie complex after 730am. The floats were packed to the brim by 8am, and they set off from there thru the principal streets of Accra's CBD –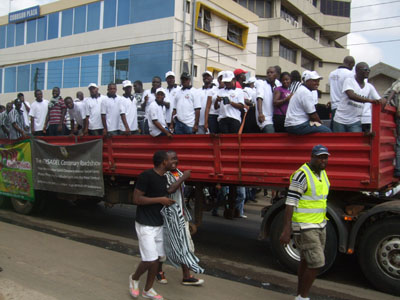 There were two floats. The first with the latest Ghanaian / 9JA hiplife tracks blazing thru the speakers. The second had the brass band and jamma crew of recent Santaclausians – The 2000's!! Santa 86 was represented. We had "Ma-waist", "Kofi Biney" and off course "Reggie" starting at the beginning with the float. Reggie was a float Marshall, so helped extensively with crowd control. What was pleasing to the eye was the way fellow marshals stood in front of a potential road/gutter defect and warded off fellow Santas from dropping into these uncovered manholes...smile!!!....
They must be commended for these selfless actions. The route took us from Kaneshie Complex via Kwame Nkrumah Circle (where I joined the entourage) thru TUC, left unto Adabraka, past TOTAL HOUSE/Heritage towers/British council onto Liberation Circle, then down via State House/ Osu Cemetery/Stadium, then across the lights past kingdom books, veering left at the lights into Osu oxford street, where we went past modern fotos, Tigo/MTN, then Papaya; had a brief stopover, then continued across the roundabout to Cantonments/ Morning Star, Togo Embassy up onto Akuffo-Addo Circle, then via British Ambassador residence, left via GIS; a brief reorganization of the groupings took place with the brass band leading the entourage of tired Santaclausians, then straight past lands commission onto aviation social centre.
The whole walk/float took 4 and a half hours to complete. I am proud to report Kofi Biney, Reggie, mawaist, Ladipo, myself and ( Abrorkwa who joined at oxford street) made it thru safely..... (The impressive thing was these 40+ year old guys were on foot singing jamma and did not jump on board the float for the entire duration of the float procession.) of coz Saucy was with us in spirit and later joined us in person at the aviation club house for an elaborate question and answer session on our route...smile At aviation house, the likes of our group president, - Philip - some of the 85 year group joined us in the tent.
Fellow cape schools - Hollyco, Mfantsipim, Augustines, Massize and Aggrey had a few old students around to lend their support. The centenary committee president - Nico Annan gave a rousing speech as did Mr RT Orleans Pobee ( original piccolo) who chaired the day's event. Asui was served as well as other refreshments.
Click on above photos for more...
Cheers

Pajero - Ebiradze, 1986
---
Year Group Websites
We have introduced links to the websites and FaceBook pages of year groups. See the "Year Groups..." menu to the left of the page. We would like to encourage year groups with any online presence to forward such links to us (webmaster@adisadelOnline.com). The links can be URLs to a website home page, FaceBook for Year Group, Google Groups, Yahoo Groups, Twitter, Blogs etc.
---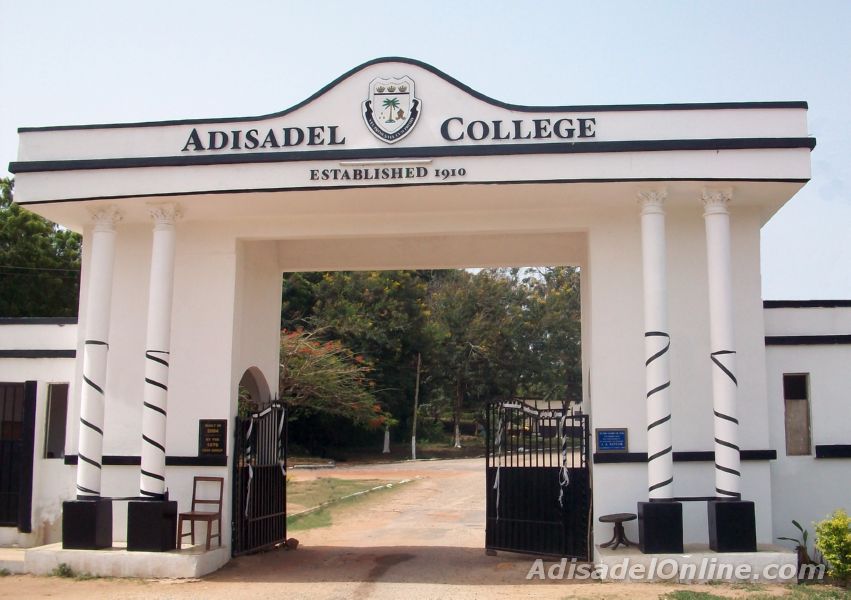 The Mercer Gate
(Courtesy: Jennifer Indome - April 2010)
---