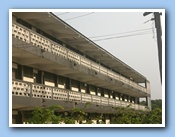 Fellow residents of Ebiradze House(current and ancient),
You may have noticed the strides being made by Aglionbites to renovate their house and make it habitable for human kind. One Santa
from Ebiradze has started the intiative to renovate Ebiradze as well. We dont need to have the appaling photos of Ebiradze on the internet before we do something about that. A special Ebiradze fund has been set up by the Adisadel Foundation as part of the Capital Campaign, and one person has already paid in $500. Pls lets all get on board and help our house. There are 85 registrants on this website from Ebiradze and if each gives at least $500, we may be able to repair fix new doors, washrooms etc. And pls don't forget the housemaster's bungalows as well. Appliances like microwave oven, fridges and TVs are welcome for their residences. We are having an inter-house competition so pls dont let Ebiradze down.